This is what Fidelity is telling me on my year-to-date investments, which is in S&P 500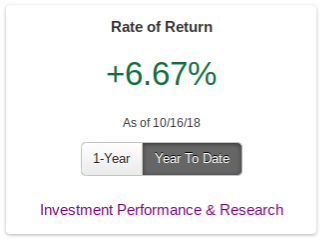 I've been making some contributions throughout the year, but it's still in line with what the market would have done with no new contributions.
Morningstar chart
Your Jan. 12th start date would have started a little later in the year with a higher starting point, but should still be positive on a total return (including dividends) basis (about +3% according to the Morningstar chart).
Going back to Oct-2017 for a full year, S&P 500 is up like 12% total return.