The breakeven inflation (BEI) rate is the difference between the yield of a (nominal) Treasury and a Treasury Inflation Protected Security (TIPS) of the same maturity. These yields can be obtained for constant maturity periods of 5, 7, 10, 20 and 30 years from the
Daily Treasury Yield Curve Rates
and
Daily Treasury Real Yield Curve Rates
.
For example, for June 11, the Treasury 5-year yield is 0.76%, and the TIPS 5-year yield is -1.67%, from which we can calculate the 5-year BEI rate of 2.43% (= 0.76% - (-1.67%)). This is widely viewed as the Treasury market's expectation for the average inflation rate over the next five years.
From the treasury.gov yields, we can construct a chart of BEI rates for the maturities provided: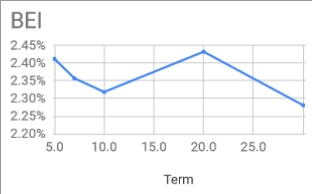 Since the Treasury does not provide TIPS constant maturity Treasury (CMT) yields for less than 5-year maturity, other means must be used to determine BEI rates for shorter maturities. One way to do this is to obtain shorter-term Treasury and TIPS yields from a broker, and calculate the BEI rates for shorter terms. I do this using ask yields from Fidelity.
For example, for June 9, the ask yield for the 5.1-year Treasury was 0.76%, and the 5.1-year TIPS was
1.76%
-1.76%
, giving a 5.1-year BEI rate of 2.52%, so pretty close to the 5-year BEI from the treasury.gov site.
For shorter-term TIPS, there is a seasonality factor that results in a sawtooth pattern for the yields. This sawtooth yield curve can be smoothed by applying a seasonal adjustment factor to the yields. The chart below shows the unadjusted and seasonally-adjusted BEI rates for maturities of five years and less: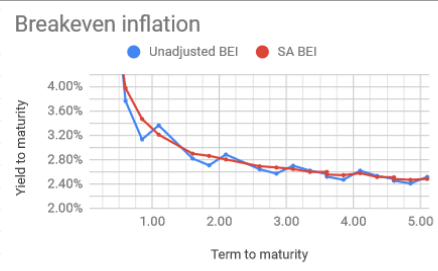 I've truncated the y-axis to exclude the BEI rate (of 7.58%) for the TIPS maturing on 7/15/2021, since the real yields for these very short-term TIPS are not meaningful, as the inflation factor at maturity already is know, and these TIPS are priced to be competitive with nominal Treasuries of the same maturity.
From this chart, we can see that shorter-term inflation expectations are higher, decreasing as maturity increases.
To get some skin in the game, and to see how things work out over the next couple of years, I recently bought ten 2-year nominal Treasuries and ten 2-year TIPS. If inflation over the next two years is close to the 2-year BEI of about 2.8%, then each of these should provide about the same total return. If inflation is higher than expected, the TIPS should provide a higher total return than the nominal Treasury, and vice versa.
(Thanks to forum member Angst for catching a typo, corrected above).
Kevin